Glue Grenades



Official Name

Glue Grenades

Aliases

None

Creator

Dr. Heller

Owners

Mystery Men

Users

Carol/The Bowler, The Sphinx, Blue Raja

Classification

Weapon

Status

Used
The Glue Grenades are a non lethal weapon invented by Dr. Heller. They consist of a highly sticky glue-like substance contained in water balloons and kept refrigerated in a metallic container to prevent the substance from becoming adhesive until it's ready to be used. They are thrown like grenades and, once used, anything or anybody coated with the substance becomes instantly adhered to any other surface they come into contact with. The Glue Grenades are used by The Sphinx, Blue Raja and The Bowler in order to incapacitate the Suits gang.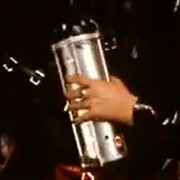 Community content is available under
CC-BY-SA
unless otherwise noted.